WATKINS GLEN, NY (29 June 2019) – Looking to take another big win in IMSA endurance competition,  Felipe Nasr qualified seventh for Whelen Engineering Racing for Sunday's Sahlen's Six Hours of The Glen.
The IMSA WeatherTech SportsCar Championship points-leading No. 31 Whelen Engineering Cadillac DPi-V.R recorded a best lap of 1 minute, 31.177 seconds in the 15-minute session.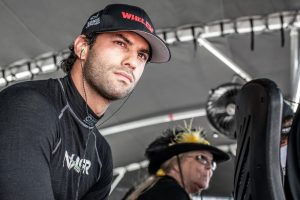 "There was traffic during our qualifying run which did not help us," said Nasr, who will co-drive with Pipo Derani and Eric Curran. "The tires come in quick here at Watkins Glen, so we lost the peak of the tires due to that traffic. From that point on, I was fighting with the balance of the car. It is what it is – I cannot change the circumstances of our qualifying run. All we can do is think about the race and how we can make up positions. For a six-hour race there is a lot that plays into it such as strategy which is where the Whelen Engineering team is very strong."
In addition to leading the DPi standings by five points, Whelen Engineering Racing is also tied for the lead in the IMSA Michelin Endurance Cup – a competition captured by Action Express Racing since its inception in 2014.
Curran, who joined Nasr in winning the 2018 Prototype championship, is the team's endurance 
driver for 2019, and is coming off a victory in the Mobil 1 Twelve Hours of Sebring. He is still looking for his first Prototype triumph at Watkins Glen.
"Driving with Felipe and Pipo in the Whelen Engineering Cadillac is the best combination you can have to win the Sahlen's Six Hours," Curran said. "Lap times are super quick this year – the fastest we've ever seen. I love this place. I've been coming here for 20 years and won races here in the past, but for some reason I can't seem to win one of these Prototype races here. I've finished second and have been on the podium a few times, but a win in the Six Hours would be great. The last time I was in the car we won at Sebring, so it would be great to back it 
up with a win here. We've got all the ingredients to make it work, so we'll keep pushing hard."
The Sahlen's Six Hours of The Glen takes the green flag at 9:45 a.m. ET on Sunday. The race will be televised on the NBCSN on Sunday evening from 7-10 p.m. ET.