Bowmanville, Ontario (7 July 2018)   Action Express Racing will start Sunday's SportsCar Grand Prix (tape-delay broadcast on FS1 starting at 4:00 PM ET) at Canadian Tire Motorsport Park from the sixth row with the two team Cadillac Prototype entries.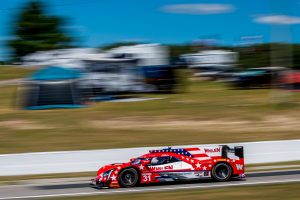 The race is round six of the 2018 IMSA WeatherTech SportsCar Championship and is set to feature two hours and forty minutes of sprint racing on the fabled Canadian circuit.  The team has three podiums at the track including two victories with the No. 31 Whelen Engineering Racing DPi-V.R in 2016 and 2017. 
Eric Curran and Felipe Nasr will share the driving duties in the Whelen Engineering Racing   Cadillac DPi-V.R as they look to retake the IMSA points lead, while the No. 5 Mustang Sampling Racing Cadillac DPi-V.R will be shared by Christian Fittipaldi and IMSA points leader Filipe Albuquerque. 
Saturday's 15-minute qualifying session saw the two Cadillac Prototypes take to the track to lock in their positions in the 32-car field, with Fittipaldi clocking a 1:08.009-seconds lap to take the inside of the sixth row for Sunday's race in the No. 5 Mustang Sampling Racing Cadillac DPi-V.R entry that carries a benchmark-setting patriotic livery. 
"The car wasn't too bad, but I didn't get the most out of the tires because during one of my fast laps I had a big moment in turn three and from there, we lost performance in our tires which is normal," said Fittipaldi. "The car definitely can do more and I wasn't able to put the perfect lap in while the tires were at their best. We've made a lot of progress this weekend and are way ahead of where we were at this point last year so I think we have a much better car for the race here then we did last weekend."  
Curran had the controls of the Stars and Stripes-liveried Whelen entry, and despite having posted encouraging lap times in the opening practice sessions, was frustrated to end the session with a best lap time of 1:08.168-seconds to take 12th on Sunday's grid. 
"We had a quick Whelen Cadillac yesterday and this morning," said Curran. "With the temperatures going up this afternoon, our car just didn't match the track perfectly so we were losing out on a couple of the corners. It's too bad because the car is really good in some places. We have some time to make up, but our Whelen guys will do a good job tomorrow and we will see what we have in the race. We've got some great guests here with Whelen this weekend so hopefully we can get this Cadillac back to victory lane here."
The visit to the 2.449-mile natural terrain circuit is the first for Nasr and Albuquerque, who have both relished their first opportunity to race on the high-speed circuit. 
"It is a really exciting place to drive with all the elevation changes and the fast corners—it's an old school track, with grass at the edge of most of the corners so a small mistake can cost you," said Albuquerque. "It will be tricky with the GT traffic because it is a narrow track and if you get off line, there will be marbles so you will have to be very careful. I'm excited to be racing here and looking forward to tomorrow."
"I think that the preparation we did before coming here was really good and I was able to get up to speed quickly right from the first practice," said Nasr of his first exposure to the track. "There is still a race to play tomorrow we will count on the Action Express guys to make the right calls with strategy and everything. The temperatures could be a factor and also having a car that can handle well over the course of a full stint will also be really important." 
Sunday's on-track action will start with a  9:50 AM warm-up ahead of the 2:05 PM ET green flag for the race, with FS1 coverage starting at 4:00 PM ET and live race call from IMSA Radio.