DRIVERS
2018 Lineup / IMSA WeatherTech SportsCar Championship / Prototype (P)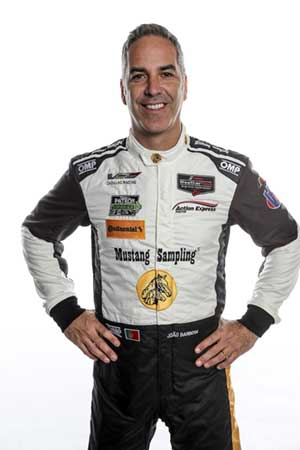 João Barbosa
No. 5 / Full Time Driver
Born: March 11, 1975 (41)
Hometown: Porto, Portugal
Family: Mariana (wife), Giles (son), Rodrigo (son)
P Championships: (3) Overall, (4) NAEC Accomplishments: 1988/1989 Portuguese Karting Champion, 1994 Portuguese Formula Ford Champion, 6 IMSA Prototype Race Wins including the 2010 & 2014 Daytona 24, 2015 & 2016 Sebring 12 Hour Winner, 2016 & 2017 Watkins Glen 6 hr.
Hobbies/Fun Fact: Triathlon Competitor


---
The two-time and co-defending IMSA WeatherTech SportsCar Champion João Barbosa returns to Action Express Racing to drive the familiar yellow, black and white Mustang Sampling Chevrolet Corvette Daytona Prototype seeking a third consecutive championship at the pinnacle of North American sports car competition.

For the past two seasons the Portuguese ace has teamed with Brazilian Christian Fittipaldi in the No. 5 Mustang Sampling Corvette DP and have set the bar in the prototype class. The duo have combined to run all but one lap of competition in the past two seasons and were part of the triumvirate (with Sebastien Bourdais) to win the 62nd running of the Mobil 1 Twelve Hours of Sebring by an entire lap. The win marked the first overall victory for Chevrolet in 50 years in North America's oldest endurance race.

The duo capped off their second championship-winning season by winning the Petit Le Mans at Road America, surviving the treacherous conditions and bringing home the prototype victory, as well as the IMSA TUDOR United SportsCar Championship and Tequila Patrón North American Endurance Cup title. Before coming to the United States to compete in sports car racing full time in 2001, Barbosa honed his skills competing in Europe. As a child, he competed in karting and won championships in Portugal and across Europe. He has competed in over 15 counties in various forms of motorsports and has been touted by legends like Hurley Haywood as the fastest man in the series today.

Barbosa began competing for Brumos Racing in 2008, and came to Action Express Racing in 2010, winning in the team's very first start in the Rolex 24 at Daytona. The 2015 IMSA Tudor United SportsCar season will be his sixth with Action Express Racing, and he has his sights set on repeating the success of the 2014 season.

João resides in Ormond Beach, FL with his wife and two sons. He is an avid runner and cyclist.
Filipe Albuquerque
No. 5 / Full Time Driver
Born: June 13, 1985 (32)
Hometown: Coimbra, Portugal
Family: wife Joana (wife), Carolina (daughter)
P Championships: 1 NAEC
Accomplishments: Red Bull Junior Team, GP2, A1GP, Audi Factory P1 Pilot, 2013 Rolex 24 Hour Class Winner
Hobbies/Fun Fact: Global Endurance Racer, Likes cinema, tennis and traveling


---
Filipe Albuquerque first joined Action Express Racing in 2016, and had an immediate impact, taking a podium in his second start with the team and then winning in his third. Following a traditional European path in the sport that started with standout drives in karts, victories in formula car racing, and even a Formula 1 test at just 22 years old, Albuquerque scored a championship in his very first year of GT3 competition. Soon, Audi came calling as he joined their DTM and Le Mans competition efforts. Still active in European Le Mans competition, Albuquerque will become a full-time force for Action Express Racing in 2018 as co-driver with Joao Barbosa in the No. 5 Mustang Sampling Racing Cadillac DPi.
Christian Fittipaldi
No. 5 / Endurance Driver
Born: December 18, 1971 (46)
Hometown: Sao Paulo, Brazil
Family: Kris (wife), Manuela (daughter)
P Championships: (3) Overall, (4) NAEC
Accomplishments: 7 IMSA Prototype Race Wins and 4 Poles including 2004 & 2014 Daytona 24, 2015 12 Hours of Sebring, 2016 & 2017 Watkins Glen 6 Hour, Formula 300 Champion, Newman Haas CART Driver 1996 - 2002, A1 GP, Brazilian Stockcar and NASCAR, 43 Formula 1 Career Starts and Finished 2nd 1995 Indy 500
Hobbies/Fun Fact: Avid Mountain Bike Racer


---
Two-time and defending IMSA WeatherTech SportsCar Champion driver Christian Fittipaldi returns to Action Express Racing for his fourth full season of competition following a second consecutive championship sweep.

Fittipaldi, a native of Brazil, has teamed with Portuguese driver João Barbosa to win five races in the past two seasons, completing all but one lap of competition in the TUDOR (now WeatherTech) era. Fittipaldi and Barbosa will again pilot the iconic No. 5 Mustang Sampling Chevrolet Corvette Daytona Prototype, an entry they drove to victory in the 62nd annual Twelve Hours of Sebring, scoring the overall victory for Chevrolet for the first time in 50 years.

The two drivers also combined to win the prototype class at Petit Le Mans, sealing the victory, the IMSA TUDOR United SportsCar Championship and the Tequila Patrón North American Endurance Cup title for the second consecutive season.

Fittipaldi was born with racing in his blood; he is the son of former Formula 1 driver Wilson Fittipaldi and the nephew of two-time Formula 1 world champion and two-time Indianapolis 500 winner Emerson Fittipaldi. A former Formula 3000 champion, Fittipaldi has been a fierce competitor in motorsports for nearly three decades. The Brazilian has competed in the IndyCar series, CART series, Formula 1, NASCAR and IMSA. In addition to his full-time competition in the IMSA WeatherTech SportsCar Championship, the Brazilian will be launching his Fittipaldi Exotic Driving Experience based in Texas. Outside of sports car racing, the Brazilian satiates his need for competition by racing in mountain bike and karting events, both in the United States and his home country of Brazil. Christian stays busy away from racing by spending time with his wife and daughter at their home in Miami.
Eric Curran
No. 31 Whelen / Full Time Driver
Born: June 8, 1975 (42)
Hometown: Springfield, MA
P Championships: 1 Overall
Accomplishments: 2016 IMSA Prototype Champion, 31 Professional Race Wins, 17 Professional Poles, Competing in SCCA World Challenge, Grand AM GT, Continental Tire Championships, NASCAR Xfinity Series, NASCAR K&N Series, ADAC GT Masters
Hobbies/Fun Fact: Co-Owner of West Coast Exotics and avid driver coach and HSR competitor on off weekends.


---
Eric Curran returns to Action Express Racing for the 2016 IMSA WeatherTech SportsCar Season as co-driver of the red and white Whelen Engineering Corvette. Eric has been racing under the Whelen banner since the 2007 season when he was hired by Sonny Whelen to compete in the World Challenge GT series in a Corvette C6.

Eric began racing in 1994 in the SCCA ITB series, winning four championships and 22 races in five seasons. He continued to be a championship threat as his career advanced to the SCCA national ranks, competing and winning the championship along with five wins in 1999 driving a Chevy Camaro Z28.

In 2015, Curran and new teammate Dane Cameron burst onto the prototype scene by capturing two wins and competing for the series championship into the closing minutes of the rain shortened Petit Le Mans. The duo led the way in the second ever 1-2 finish for Action Express Racing at the 4-mile Road America circuit in Elkhart Lake, WI. Curran's experience isn't limited to sports car racing; he has competed in the NASCAR Nationwide, K&N Pro Series and Whelen Modified Series. Although he was successful in his efforts at oval track racing, for Curran, his passion remained sports car events.

In 2010, Whelen hired Boris Said to compete with Eric in the Rolex Grand-Am GT Series, where the duo had two poles and a sixth place finish in their first season. The two would continue to compete in the GT class through 2013.

The next move for Curran came when Whelen moved from the GT class to the Prototype class for the inaugural IMSA Tudor United SportsCar Championship season in 2014. This season Curran will again co-drive with Dane Cameron in the Whelen Engineering Corvette C7 DP, the duo will welcome IndyCar Ace Simon Pagenaud at Daytona and Petit Le Mans, while Scott Pruett will pilot the red and white Whelen Corvette DP with the team for the Twelve Hours of Sebring.

Curran recently teamed with former co-driver and longtime friend Boris Said in opening West Coast Exotic Cars in Murrieta, CA, featuring the best domestic and imported automobiles and hard to find parts.

Eric is a native of Easthampton, MA and resides in Sarasota, FL and San Diego, CA.
Felipe Nasr
No. 31 Whelen / Full Time Driver
Born: August 21, 1992 (25)
Hometown: Brasilia, Brazil
P Championships: 2018 will be first full season of IMSA Competition. 2012 Sunoco Challenge Winner, 2012 Daytona 24 Hour Prototype Podium Finish
Accomplishments: 2009 Formula BMW Europe Champion, 2011 British Formula 3 Champion, 2011 Macau Podium, 2014 Official Test Driver Williams F1, 2015/2016 Sauber F1 driver, 39 Career F1 Starts w/29 Career Points
Hobbies/Fun Fact: Began Karting at age 7. Enjoys sports, fishing and mechanics. Favorite films Star Wars, James Bond and his favorite race track is Spa-Francorchamps


---
Former Formula 1 driver Felipe Nasr joins Action Express Racing full-time in 2018. With over 40 starts in Formula 1, Nasr finished fifth in his first-career F1 race in the Australian Grand Prix in 2015. It was the best ever result for a Brazilian driver making a Grand Prix debut. He also served as a test and reserve F1 driver in 2014. A multi-time champion across several European open-wheel categories, Nasr first teamed with Action Express Racing in the 2013 Rolex 24 At Daytona.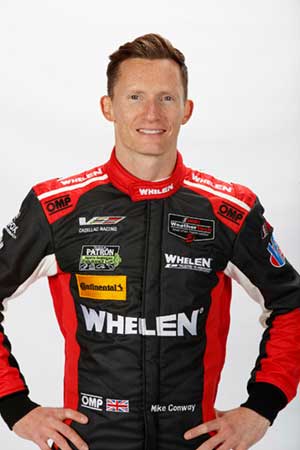 Mike Conway
No. 31 / Endurance Driver
Born: August 19, 1983 (34)
Hometown: Bromley, England
P Championships: 1 NAEC
Accomplishments: Competed in Formula Ford and F3, 2004 Formula Renault UK Champion, 2006 British Formula 3 Champion, GP2 Driver, 4 Indycar wins, 2014 Honda F1 test driver, Toyota P1 Factory Driver in FIA WEC, and Formula E Championships, 2nd 24 Hours of LeMans 2016.
Hobbies/Fun Fact: Began Karting at age 8. The world record holder in the "Fethard to 'Keeffes run".


---
Race veteran Mike Conway returns to Action Express Racing in 2018 as an endurance driver for the Rolex 24, Sebring 12 Hour, and Petit Le Mans events. Conway has years of experience across several championships including IndyCar, Formula E, WEC, ALMS and IMSA. He is a four-time IndyCar race winner and winner of the 6 Hours of Bahrain. Conway has made four starts in the 24 Hours of Le Mans in France.
Stuart Middleton
No. 31 / Rolex 24
The newest racer to join Action Express Racing, Stuart Middleton already has earned some significant accolades. Middleton became a Ginetta Junior Scholarship winner in 2014, secured the Ginetta Junior Winter Series Championship title in 2015, and netted the Ginetta Junior Series vice-championship in 2016. The Ashington, Northcumberland native is recognized as a British Racing Drivers Racing Club (BRDC) 'Rising Star' who most recently earned the 2017 British GT4 Championship - in his first year in GT4 competition. That honor was capped off by being named the winner of the 2017 Sunoco Whelen Challenge, which earned him the opportunity for a drive with Action Express Racing in the Rolex 24 At Daytona to kick off the 2018 IMSA WeatherTech SportsCar Championship season.