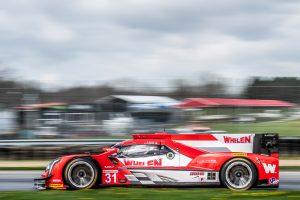 Elkhart Lake, Wisc. (30 July 2018)- With two wins in the last three years at the legendary Wisconsin track, there is little question about why Whelen Engineering Racing looks forward to racing at Road America. That anticipation will be strongest this week as the team prepares for the next round of IMSA WeatherTech SportsCar Championship competition on Sunday (FS1 2:30 PM ET broadcast) at the 4-mile natural terrain circuit in Elkhart Lake. 
Multi-time Road America race winner Eric Curran will team with Road America first-timer Felipe Nasr in the No. 31 Whelen Engineering Racing DPi-V.R for Sunday's two hour, 40-minute race as the duo look to extend the history of strong results for the red and white Whelen machine. 
Curran and Nasr hold a one point advantage in the IMSA Prototype championship standings over the team No. 5 Mustang Sampling Racing entry as they look to add another IMSA WeatherTech title to the Whelen trophy case. Entering the weekend with a podium at Canadian Tire Motorsport Park in the most recent outing, the Whelen squad will look to continue that momentum in the ultra-competitive IMSA Prototype battleground. 
"Road America is another amazing track on the IMSA calendar that I haven't been to yet," said Nasr. "I will do the same thing again with watching in-car cameras and playing Forza just to learn the track. After the back to back weekends we had with Watkins Glen and Canadian Tire Motorsport Park, it was nice to have had a little bit of a break so now we can be fresh going to Road America and focus on exactly what we have done all year, taking one step at a time, dealing with surprises and hopefully continue making good decisions."
With two overall victories on board IMSA Prototype machines, as well as wins in a range of machinery at the track, there is little that brings a faster smile to Curran's face than the mention of Road America. 
"I just love racing at this track," said Curran. "Not only does it have everything as far as fast corners—which are a blast in the Whelen Cadillac Prototype—and slow corners and some really technical sections as well, but it also has some great fans and an awesome tradition in racing. Our goal is to just to do what we can to keep the Whelen car up front this weekend. Felipe (Nasr) has done a great job this year to learn new tracks, and I think he's really going to like this one!"
Follow twitter.com/ax_racing for updates and visit https://axracing.com for team information, photos, and additional updates.
Whelen Timeline: http://www.whelen.com/pb/Automotive/ProductSheets/Misc/Whelen_History.pdf