Daytona Beach, Fl. (25 January 2018) –  The 2018 IMSA WeatherTech SportsCar Championship campaigns of Mustang Sampling Racing and Whelen Engineering Racing got off to a quick start on Thursday as Daytona International Speedway played host for the opening day of on-track action for the Rolex 24 At Daytona.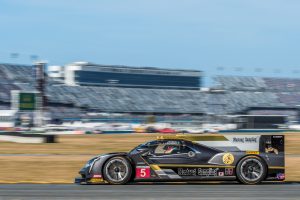 A pair of practice sessions preceded the 15-minute qualifying session that set the grid for the start of Saturday's (Live on FOX at 2:00 PM ET) race start.
The No. 5 Mustang Sampling Racing DPi-V.R will lead the Action Express Racing effort  on Saturday after Filipe Albuquerque (PRT) emerged from a fiercely competitive qualifying session to lock in third on the grid with a fast lap time of 1:36.194-seconds on his final flying lap of the 3.56-mile oval-based road circuit.
Albuquerque, who scored a GT class victory in his first-ever Rolex 24 At Daytona start, will share the driving duties in the Mustang Sampling machine with Christian Fittipaldi (BRA)  and Joao Barbosa (PRT). The trio will look to score another Rolex 24 at Daytona victory and get a strong start in the 2018 Tequila Patron North American Endurance Cup.
"It was pretty good," Albuquerque said of the session. "I needed just one more tenth or one-and-a-half seconds. I am happy with P3, the Mustang Sampling Cadillac feels good. I think we have a good car for the race. One tenth (of a difference to pole) for the 24 hours is really nothing. We will now fine-tune the car for the night time."
The No. 31 Whelen Engineering Cadillac DPi-V.R will start from the fourth row after Felipe Nasr (BRA) posted a quick lap time of 1:36.508-seconds to secure seventh on the grid. Nasr, who captured a third place result on his Rolex 24 At Daytona debut in 2012, will share the cockpit time with  2016 IMSA Champion Eric Curran (USA), Mike Conway (UK), and Stuart Middleton (UK).
"The balance in general of the car is very good," Nasr said. "Since the Roar I thought we have had a good car. Everything was coming better until the end of this session-the track was getting cooler. It is too bad– I was going faster, then we had an electrical issue that stopped the car on the track.  I think I could have gone a little faster and battled for the pole. But the guys will get it all set and we will be all good for night practice. It is a long race and we have a good Whelen Cadillac so I'm ready to go for this race."
Thursday's traditional night practice session will close the running on Thursday, with a final Friday AM practice ahead of Saturday's 2:40 PM ET green flag.
Keep updated via twitter.com/axracing
-sundaygroup-