Sebring, Fla. (17 March 2018)  With race-leading pace, well-executed pit stops, and a focus on the finish, Whelen Engineering Racing showed strength in Saturday's 12 Hours of Sebring. The team brought home another IMSA WeatherTech SportsCar Championship podium result on Saturday with the No. 31 Whelen Engineering Cadillac DPi-V.R, notching the second podium finish of the 2018 season and the third consecutive podium result for the team at Sebring International Raceway.
Drivers Felipe Nasr (BRA), Eric Curran (USA), and Mike Conway (UK) opened the season with a run to second place in the Rolex 24 At Daytona and were looking to improve on that result on Saturday after leading the race for multiple segments of the 12 hour event.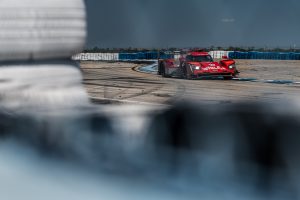 The race ran at a wide-open pace with extensive green flag running for the opening four hours, but the nature of the race changed as a series of full course cautions kept the strategies evolving with every lap. The drivers kept their focus on the front, with all three racers posting strong performances. The team held up its end of the bargain with swift pit stops and well-executed pit strategy.
Nearly two hours of green flag running made for a sprint to the finish line as darkness covered the track. Nasr was on board for the final segments, and had to strike the best balance between outright pace and making sure the Whelen Engineering entry had the fuel to make the finish.
That balance kept the first-year IMSA pilot from making forward progress late in the race, but he held on to score third at the finish as the team continues to keep the big picture in mind.
Whelen Engineering Racing will return to IMSA WeatherTech competition in the Bubba Burger Sports Car Grand Prix at Long Beach on April 14th.
Felipe Nasr, No. 31 Whelen Engineering Cadillac DPi-V.R:
"It was tough out there," Nasr said. "At night everyone was set for those last two hours. We had to save fuel – it was the only choice we had –  and give up track position. I want to win, the team wants to win, but we have to take it as it comes. Today we had a great race. The Whelen Cadillac was unbelievably good. We led a lot of laps for many hours and stayed in the top three. The last two hours are what count and of course I'm a little disappointed because everybody wants to win but on the other hand, we are leading both of the championships and we have to take it. It is a really great achievement for the team. We will take it."
Eric Curran, No. 31 Whelen Engineering Cadillac DPi-V.R:
"Overall a really good day," Curran said. "Crazy race, but still good fun here at Sebring. We led a lot of the race and we thought we had a car that was capable of winning. The Whelen Cadillac was good and reliable. The Action Express guys killed it with the pit stops. Overall it was a great points day. We just need to win one of these Sebring 12 hours. It all started for me here at Sebring with Sonny (Whelen) and my first race with Sonny was a win, I would love to get another one. We've had three podiums in a row in three years, but not a win in the prototype. We've come so close, we're strong enough, so next year!"
Mike Conway, No. 31 Whelen Engineering Cadillac DPi-V.R:
"It was the same as last year, we were third last year too," Conway said. "It's a shame. We were really fighting it out toward the end of the race. We could just keep ahead of the Nissan in clean air. In traffic they seemed to have an easier time with their straight-line speed. We fought as hard as we could and gave it everything, we just came up a little shy at the end. It is a good result for the 31 Whelen Cadillac and good points for the championship. I wish the team luck the rest of the season and I hope they can win the championship."