Traffic foils fastest laps in qualifying at Road Atlanta 
BRASELTON, Ga. (12 October 2018) – Atlanta has a well-earned reputation for heavy traffic, but on Friday that reputation extended to the track as the grid was set for Saturday's season finale at Road Atlanta.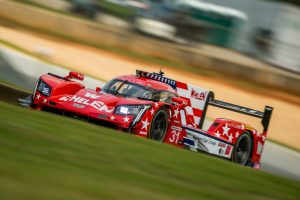 Both the Whelen Engineering Racing and Mustang Sampling Racing Cadillac Prototype entries saw their optimum qualifying laps compromised by unfortunate timing with other traffic during the 15-minute qualifying session on Friday. 
Filipe Albuquerque and Felipe Nasr will start a respective sixth and ninth in Saturday's 21st running of the Motul Petit Le Mans, the final race of the 2018 IMSA WeatherTech SportsCar Championship season.
Albuquerque timed in sixth fastest with a lap of 1:10.892-seconds in the No. 5 Mustang Sampling Cadillac DPi-V.R that will be co-driven by Christian Fittipaldi and Tristan Vautier in the classic 10-hour contest.
"I lost two laps at the peak of the tires," said Albuquerque. "We knew we needed to nail it on the window of the tires. Unfortunately, another car had a problem in corner five, and I lost half a second there. On the next lap, another car went off and he was worried about cleaning his tires, and that destroyed another lap – my two ideal laps. I backed off and then tried to improve, but the tires were already gone. That was the best I could do, but I knew the potential was there for more. We've been preparing so well for the whole race, and unfortunately it was not possible to put it all together today. But we have a good car for the race, for sure." 
Nasr entered qualifying confident of a strong showing for the Prototype class points-leading No. 31 Whelen Engineering Cadillac DPi, but was also hindered by traffic on what would have been his fastest laps. 
"I was pretty confident going into qualifying," said Nasr, who will co-drive with Eric Curran and Gabby Chaves. "All I needed was a clear run, which unfortunately didn't happen. Twice I was blocked on my fastest laps. Another car left the pit lane on one of my quick laps – and I guess that sums up my qualifying. I'm sure we could have been fighting for the top four positions, but that's just the way it is as there are some things that we can not control."
Nasr turned a best lap of 1:10.981-seconds on the 2.54-mile circuit. 
"I felt we had a pretty good car over the weekend, and I felt the car was pretty connected as soon as we hit the track," Nasr said. "But Road Atlanta is pretty demanding on the tires, and they can go away pretty quick, and I couldn't do a better lap time later on. It is what it is, and I can't change what is done, but I'm pretty confident going into the race with the car we have."
Curran and Nasr enter the 10-hour event leading the overall championship, as well as the Tequila Patron North American Endurance Cup, which Action Express Racing is looking to win for the fifth consecutive year. Both team entries are mathematically capable of claiming the endurance title on Saturday with three rounds of scoring to determine the title. 
Pipo Derani – set to drive with Action Express Racing in 2019 – captured the pole position for his ESM team with a lap of 1:10.437-seconds. 
The Petit Le Mans takes the green flag at 11:05 a.m. ET on Saturday. Live television coverage on FS1 begins at 10:30 a.m. ET. The broadcast switches to FS2 at noon, where live coverage continues though 9:30 p.m.