Elkhart Lake, Wisc (4 August 2018) Looking to add to the team's strong record at the revered Wisconsin track, Action Express Racing will start Sunday's Continental Tire Road Race Showcase (2:30 PM live FS1  broadcast) from seventh and ninth on the grid. The team currently holds the two top positions in the IMSA WeatherTech SportsCar Championship.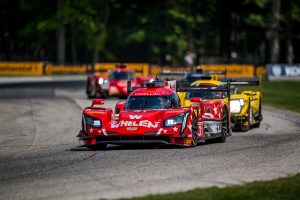 The No. 31 Whelen Engineering Racing DPi-V.R of Eric Curran and Felipe Nasr enjoys a one-point advantage over the No. 5 Mustang Sampling Racing Cadillac DPi-V.R of Filipe Albuquerque, who is welcoming his co-driver Joao Barbosa back to action after Barbosa saw his streak of 120 consecutive IMSA starts end following an injury in training. 
Barbosa was put straight to work on Saturday as he took the controls for the 15-minute qualifying session and was able to set a quick lap early on and then keep a consistent run through a series of laps on the 4-mile track to secure 7th on the grid with a fast lap time of 1:52.867-seconds. 
"It feels really good to be back and driving again," said Barbosa. "The splint for my wrist isn't bothering me too much so everything is going very well on that side. The qualifying run was really practice for the race since we did the best we could. We are learning a little bit every session. I think I got everything I could from the car during qualifying. We have a better race car than a qualifying car. We will have to explore the track, the setup, tires, and the car to see if we can get it done." 
The team has a celebrated history at the track with six podium finishes including three victories at the picturesque  Wisconsin circuit including two for the Whelen Engineering Racing squad as they look to build an advantage on the field with another big result on Sunday following Curran's quick time of 1:53.257-seconds.
"Overall, I think we have a really good Whelen Cadillac for the race tomorrow," said Curran. "This place is a tough race track and it's all about how your car is going to be on the long run during the race. I think we are in a really good place with the car for a long run. I just kept banging off the same laps for the entire 15 minutes so that is a good sign of what type of car we have tomorrow. We aren't the fastest, but we still have a fast Whelen Cadillac that you will be looking for at the end of the runs which is where we really need to be quick." –
Sunday's on-track action for round 8 of the championship will start with an (:30 AM ET warm-up ahead of the 2:35 PM ET green flag for the race, with FS1 coverage starting at 2:30 PM ET and live race call from IMSA Radio.
Keep updated via twitter.com/axracing 
-sundaygroup-