DRIVERS
2023 Lineup / IMSA WeatherTech SportsCar Championship / LMDH (GTP)
Alexander Sims
No. 31 Whelen Engineering Racing
Born: March 15, 1988 (34)
Hometown: London
Family: : Wife, three children
Career: 1998-2006: Karting including British national championships 2007-08: Formula Renault championships with three wins, two pole positions and runner-up in 2008 UK championship 2009: One win, five podiums and pole position in F3 Euro Series 2010: Two wins, eight podiums and one pole in F3 competition 2011: One victory, five podiums and sixth-place championship finish in first season of GP3 2012: First appearance at 24 Hours of Le Mans in LMP2 class. Full-time P2 entry in European Le Mans Series. Winner of Nürburgring Formula 3 Euro round 2013: GP3 race-winner at Spa; five podiums in FIA European F3 Championship; runner-up at Blancpain Endurance Series at Paul Ricard Six Hours 2014: Third-place championship finish in British GT Championship 2015: Runner-up in British GT Championship; third at Macau Grand Prix 2016: Spa 24 Hours overall victory and fifth at Nürburgring 24 Hours; fourth-place finish in Blancpain GT Endurance Cup championship 2017: Full season in IMSA WeatherTech Championship's GTLM class. Runner-up championship finish with wins at Watkins Glen (plus fastest race lap), Canadian Tire Motorsport Park and Petit Le Mans; second at Nürburgring 24 Hours 2018: Two wins in IMSA GTLM competition – VIR and Laguna Seca – and runner-up finishes at Long Beach and Mid-Ohio along with pole position at Sebring; retired in
Quick Q/A: What fuels your competitive spirit? "It is the pursuit of perfection. That's why I love endurance racing. You get more laps than most other forms of motorsport, so there is a constant situation where I'm striving for that spot-on perfect lap. You get lap after lap, adjusting to slight changes in the circuit, tire life, fuel loads. It's a constantly moving target, but one I'm always trying to get on top of. Driving the car when the tires are at the limit of their adhesion is really quite a beautiful feeling once you get it." In one sentence, how would you describe the art of driving? "It's all about finding a rhythm, finding a good feeling with the car and trying to become at one with the car so you know what it's going to do before it does its thing."


---
Sims Competed in IMSA WeatherTech SportsCar Series' GTLM class in 2017-18 with five race wins; Petit Le Mans winner in 2017 (GTLM); Sahlen's Six Hours at The Glen winner in 2017 (GTLM); Nürburgring 24 winner in 2020; 24 Hours of Spa winner (2016); race winner in FIA Formula E World Championship; past competitor in FIA World Endurance Championship with Chevrolet Corvette Racing.
Pipo Derani
No. 31 Whelen Engineering Racing
Birthdate: 8/12/1993
Birthplace: São Paulo, Brazil
Residence: Miami
Family: Wife Marina
Notable: 2021 IMSA DPi champion and IMSA DPi Team Championship; 2019 IMSA DPi Endurance champion; 2018-2019 IMSA WeatherTech SportsCar Championship with ESM and Asian Le Mans Series; four Le Mans starts; 2013-2011 Formula 3, Pro Mazda
Twitter: @PipoDerani
Quick Q&A: What fuels your competitive spirit? "Racing is in my blood since a very young age. It's a passion I inherited from my late father Walter who was passionate for cars and motorsport. The racing passion has passed on from one generation to another. My competitive spirit is constantly fueled by the desire to win."
In one sentence, how would you describe the art of driving? "Driving a race car and taking it to the very limit is an art in itself. It has the power and ability to take an individual to another dimension, one that is lonely and impossible to share it with anybody else but at the same time one that makes you feel absolutely whole and complete in that moment in time. Driving a race car to the limit It's the most present you can be in your life and that's the art in itself."
What goes through your mind as you get into the 31 car? "Nothing but how to go quicker in each corner."




---
Pipo Derani was born in São Paulo in 1993. Since very young Pipo was passionate about cars and motorsport, a passion he inherited from his father Walter. At the age of 7 Pipo drove for the first time a go-kart and by the age of 10 was racing professionally in Brazil. Since then he has dedicated his life to Motorsport winning various championships in Brazil before starting an extremely successful international career. Derani moved to Europe with just 15 years of age and raced in the highest level of open-wheel racing. He won races in the extremely competitive British Formula 3 and finished third in the Macau Grand Prix, the World Cup of Formula 3. With only 20 years of age Derani debuted in Sportscar Racing and in 2016 won the 24 Hours of Daytona and the 12 Hours of Sebring as a Rookie becoming the first ever Brazilian driver to win both races in the same year. Derani won the 12 Hours of Sebring another two times in 2018 and 2019 making him the youngest ever three time Winner and the first to win three from four Sebring's since the great Phil Hill achieved the same almost 60 years ago. In doing so, he equals such as 1961 Formula One champion Phil Hill (1958, 1959 and 1961), the legendary Mario Andretti (1967, 1970, 1972), Olivier Gendebien (1959, 1960, 1961) and Marco Werner (2003, 2005 and 2007) with three titles at the challenging Florida venue. Derani is currently racing for the Whelen Engineering Racing Cadillac team in the IMSA Weathertech Sportscar Championship.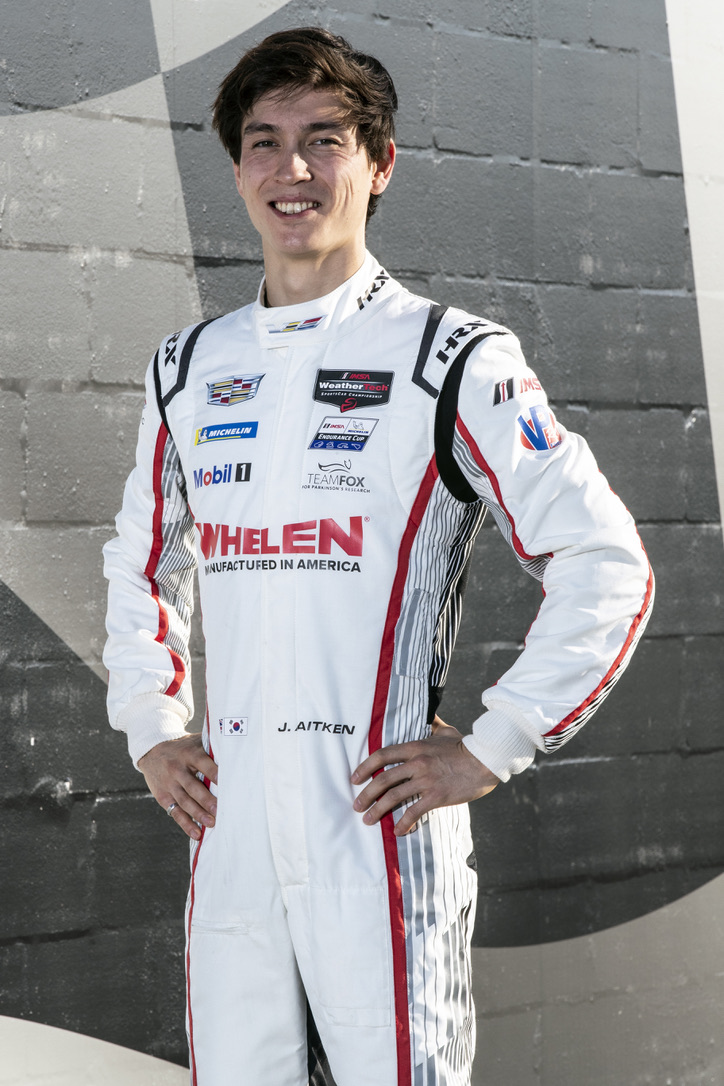 Jack Aitken
No. 31 Whelen Engineering Racing
Birthdate: 9/23/1995
Birthplace: London
Residence: Long Hanborough, England
Family: Single
Notable: Competed in the European Le Mans Series in 2022 for TF Sport in the LMP2 class. He also competed in the GT World Challenge Europe Endurance Cup and ADAC GT Masters with Emil Frey Racing. He made his Le Mans 24 Hour debut in LMP2 with Algarve Pro Racing. Aitken, the 2015 Formula Renault Eurocup champion, has been a Williams F1 reserve driver since 2020. Has also competed in GP3 and FIA Formula 2. His father is Scottish and mother is South Korean.
Twitter: @jaitkenracer